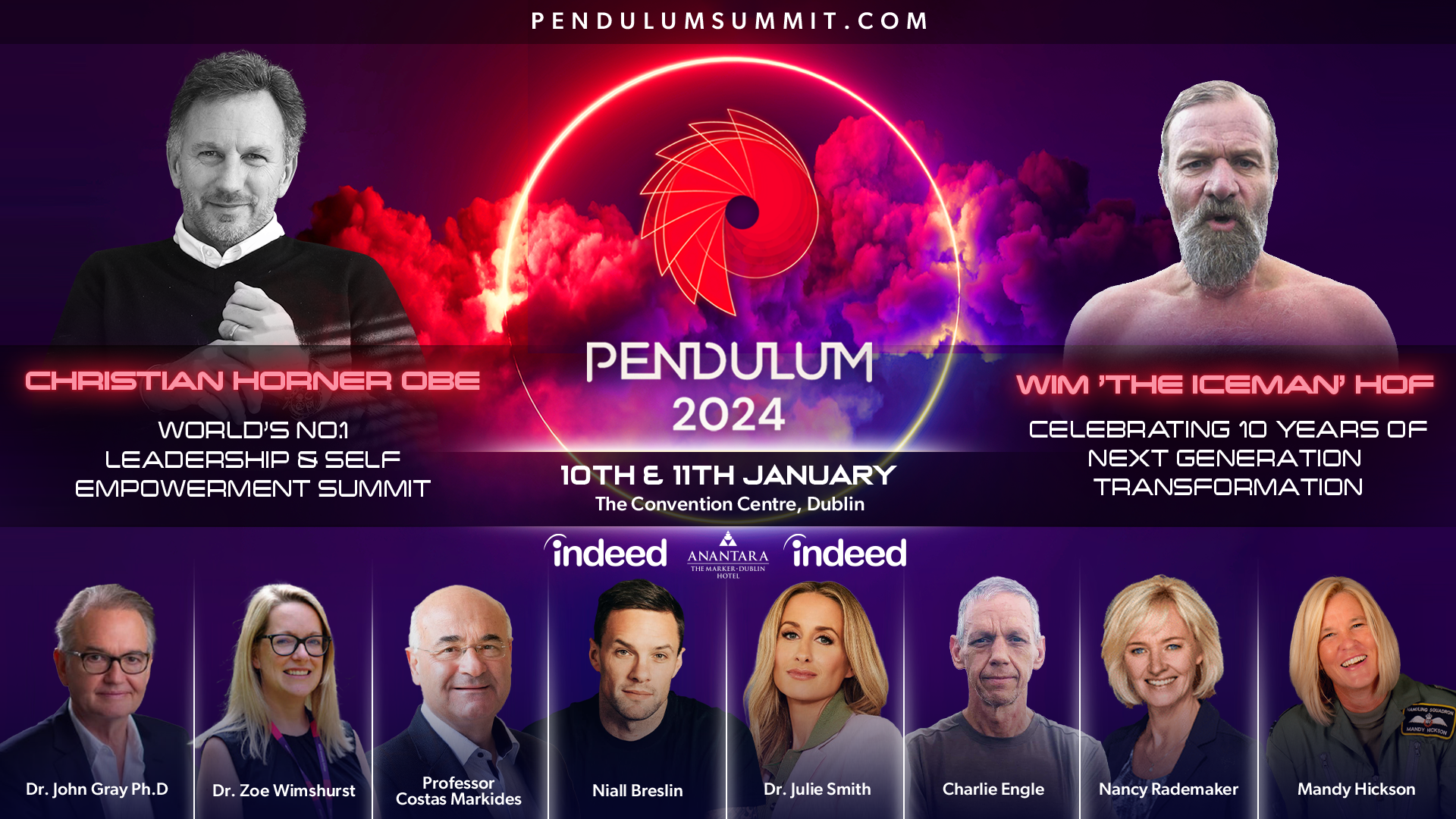 Pendulum Summit 2024
Celebrating 10 years
Next Generation Transformation
The World's No.1 Leadership & Self-Empowerment Summit
When:                             10th & 11th January 2024
Where:                            Convention Centre Dublin
Brochure:                       2024-Event Brochure 
Cost: 
The Full Cost for the two day event is €945.  However, if you are a member of County Wexford Chamber of Commerce, you can avail of 50% discount (€472.50).  The cost to non-members is €565 which is a 40% discount.
Pendulum Summit, The World's No. 1 Leadership & Self Empowerment Summit celebrates its 10th anniversary at the Convention Centre Dublin on January 10th & 11th 2024. The annual inspiring and actionable 2-day programme brings together the best orators & authorities on the planet to share their insights and empower delegates to maximise their impact and potential in all aspects of their lives.
Pendulum delivers solutions in vocational training for individuals, companies, and business clients, in leadership, high performance, self-empowerment, and a myriad of other professional growth areas. The networking extravaganza is another world-class feature and it is also brilliant for team building, business acquisition, & company branding opportunities via its world class expo & partnership opportunities.
Next January, the electrifying CPD internationally accredited event will have a theme of "Next Generation Transformation" and will serve you by "fueling peak performance and holistic wellbeing" and empower you whether you are a senior executive, middle management, a founder, or an aspiring "up and coming" leader.
Pendulum 2024 Confirmed Speakers: More coming soon
Harry Redknapp – Iconic Football Manager, Master Motivator & Team Building Specialist
'The Ice Man' Wim Hof – World Ice Record Holder & Breathing Revolutionary
Nancy Rademaker – Advisor & Educator on Digital Transformation, Disruption & AI
Dr. John Gray Ph.D – 'Men Are from Mars, Women Are from Venus'​ and Workplace Relationship Authority
Mandy Hickson – Former RAF Fighter Pilot and Expert in Strategic Leadership
Charlie Engle– Sahara Desert Ultra Runner & Addiction Survivor
Dr. Zoe Wimshurst – Psychologist & Visual Performance Coach to Ronaldo & Max Verstappen
Professor Costas Markides – Professor of Strategy and Entrepreneurship at London Business School
Dr. Julie Smith – Armour-Plated Resilience & Well-Being with World's Leading Psychologist
Christian Horner OBE – 6-Time World Champion Red Bull Racing Team Principal and CEO
At Pendulum Summit, we believe in the power of impactful moments that create lasting change. Our mission is to transform the lives of our delegates, their organisations, and their communities, ultimately creating a ripple effect that drives the change the world needs.
Why do we exist?
To create transformative experiences: We understand that a single moment of inspiration can spark a lifetime of achievement. By curating immersive events and conferences, we provide a platform for individuals to tap into their potential, gain valuable insights, and ignite personal growth.
To empower organisations: We recognise that successful businesses are built on engaged and empowered teams. Through our tailored programs and workshops, we equip organisations with the tools, strategies, and mindset needed to foster innovation, drive collaboration, and achieve sustainable success.
To impact communities: We believe that positive change extends beyond individual lives and organisations. Pendulum Summit aims to leave a lasting imprint on the communities we serve. By fostering a culture of giving back and social responsibility, we inspire our delegates to make a difference and contribute to a better world.
To create a ripple effect: We understand that change happens when individuals, organisations, and communities align their efforts towards a common goal. Pendulum Summit strives to create a ripple effect, where the transformative experiences of our delegates ripple outwards, inspiring others and fostering a global movement towards positive change.
To be the change the world needs: We aspire to be at the forefront of shaping a better future. Pendulum Summit is dedicated to continuously evolving, innovating, and adapting to address the ever-changing needs of individuals, organisations, and communities worldwide. By being a catalyst for change, we aim to inspire, motivate, and empower people to create a more inclusive, sustainable, and impactful world.
Join Pendulum Summit and be part of a global community dedicated to creating impactful moments, driving lasting change, and becoming the change the world needs. Together, let's unleash our full potential and create a better tomorrow.
For more reasons on why you should join us at Pendulum Summit, click here.
Who Attends Pendulum:
Our 7000 Pendulum attendees are a diverse mix of CEO's, business influencers, senior managers, thought leaders and individuals who have an insatiable appetite to constantly improve and meet like-minded, ambitious people. The supercharged 2 days is complemented with other events like the Pendulum CEO Dinner and the post-summit celebratory gatherings.
Individuals and companies also use Pendulum for :
Team-building
Senior Exec Leadership Development
Rewarding high performing middle management
Cultivating up-and-coming leaders
Thanking valued clients
Groups of friends or business colleagues that want to learn together
Individuals & ambitious companies who value a world-class 2-day immersion delivered by the greatest speakers on the planet at a world award winning venue