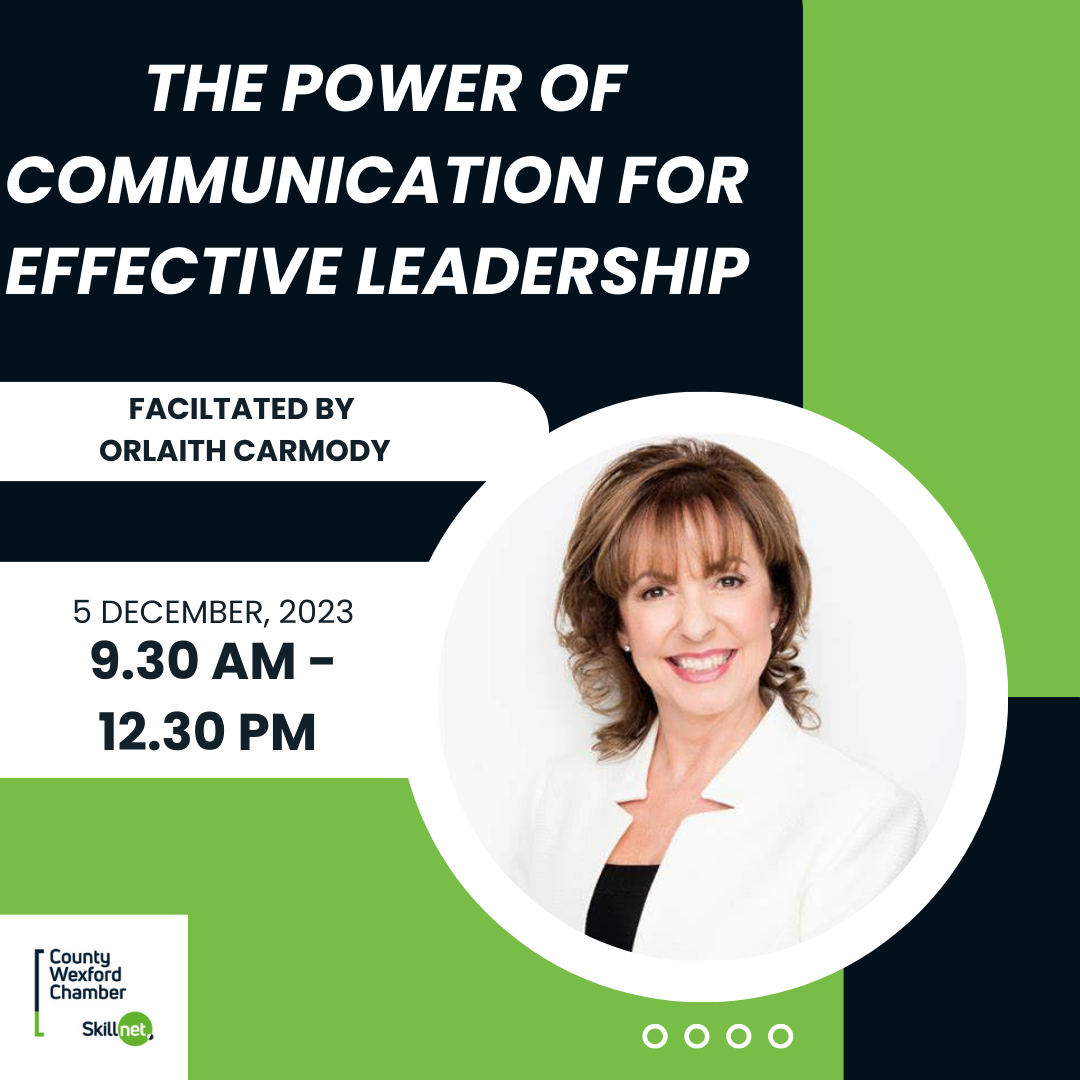 In today's fast-paced and dynamic business environment, effective leadership relies heavily on strong communication skills. Leaders who can convey their vision, inspire their teams, and navigate complex interpersonal dynamics are more likely to succeed in achieving their organisational goals.
The 'Power of Communication for Effective Leadership' masterclass is designed to equip leaders with the essential communication tools and strategies needed to excel in their roles.
PLACES LIMITED TO 50 PEOPLE
Date:                                                  5th December
Time:                                                  9.30am – 12.30pm
Location:                                           Ferrycarrig Hotel, Wexford
Event Schedule:
9.30am – 10am                   Tea/Coffee and Networking
10am                                   Workshop – Understanding Communication Styles – delivered by Therese O Connor, Network Manager
10.45am                              Masterclass – Communication: The Heart of Leadership – facilitated by Orlaith Carmody, Gavin Duffy & Associates
12.15pm                             County Wexford Chamber Skillnet Communicates their 2024 plan
12.30pm                             Finish
All attendees on the day will receive a copy of Orlaith's book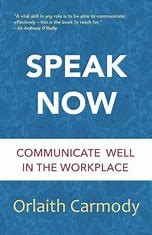 Masterclass 1:
Title:  Understanding Communication Styles
People that connect with others prosper. Those that don't, struggle.
Do you know your communication style? iMA is an exciting universal language that is designed to maximise connectivity.  Everyone speaks 1 of 4 iMA dialects, putting you on the same wavelength as 25% of people that look at and filter the world through your eyes and ears. It also means that the majority of people are on a different wavelength than you. iMA helps you connect with people on a different wavelength, increasing likability, trust, communication and understanding, and reducing stress and tension.
Learnings include:
You can improve your connectivity with your Clients, Work Colleagues, Managers and Peers by completing the 1 minute iMA Questionnaire. It will:
Identify your preferred communication style
Be a catalyst for discussions about strengths and differences
Provide insights into improving your performance
Gain insights into new strategies to interact, to create connectivity and to avoid the behaviours that destroy it
The Facilitator:
Our very own Network Manager, Therese O Connor is the facilitator of this workshop.  With over 25 years of management experience within the fast paced service sector, Therese firmly believes that being a good leader derives from effective communication.  This belief has led Therese to train as a NLP Practitioner and iMA Facilitator, both skills she uses on a daily basis to lead and drive forward.
Masterclass 2:
Title:  Communication  – the Heart of Leadership
Effective leadership is intrinsically tied to exceptional communication skills. Now that you know your communication style, in the this masterclass, participants will embark on a transformative journey to unlock their leadership potential through effective communication skills. This immersive experience will equip leaders with the tools, insights, and techniques needed to lead with impact, influence, and authenticity.
Learnings include:
Finding the best style of communication for you
Unleashing the power of your personality,
Putting the audience first
Using your words to empower your people
Organising your message in a way that lands
The Facilitator:
Orlaith Carmody is the author of Speak Now, Communication in the Workplace (Tara Press 2022), Perform As A Leader (Ballpoint Press 2015) and Without You, Living With Loss (Ballpoint Press 2018). A highly skilled executive coach, corporate trainer and leadership consultant, she is in demand as a keynote speaker, conference chair, MC and facilitator. Over the years she has worked with some of Ireland's most influential business people, networks and political groups, and has presented at conferences in the USA, UAE, Canada and all over Europe.
Following an early career as a broadcast journalist with RTÉ, Orlaith became a director of a number of SMEs in media, recruitment, production and education. She served on the board of RTÉ from 2010 to 2015; the board of HRM Recruit from 2011 to 2016; and was President of the Irish Chapter of EO, the Entrepreneurs' Organisation 2014/2015. She is currently a member of the Compliance Committee of the Broadcasting Authority of Ireland and Chair of the Shona Project.