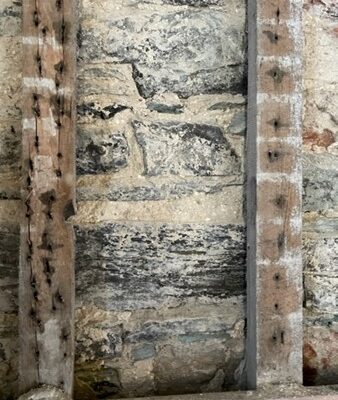 Course Overview:
This two-day workshop aims to provide specifiers, trades and craft workers an introductory to the basic Conservation Principle of 'like for like' materials with the preparation, and use of hot mixed lime mortars. The Health and Safety of using and storing Quicklime will be highlighted.  The role of sand aggregates, lime binders namely Quicklime and pozzolans will be discussed.  The attendees will compare and experience freshly mixed bedding, pointing and plastering mortars.  On completion the participants will be able to recognise traditionally made 'hot mixed' mortars in a traditionally built structure and will confidently generate and or specify a 'hot mix' of their own creation.
Who the course is for:
Building contractors: stonemasons, brick layers/masons, plasters, labourers, carpenter joiners.
Specifiers / Professional:  architects, engineers, surveyors, built heritage / conservation specialists / consultants / heritage specialists / conservation and or heritage officers
Trainers:
Caroline Gethings – Anú Heritage Conservation Consultant
Patrick Hickey – Historic Mortar Specialist / Traditional Stone Mason Patrick Hickey
Billy Bates – Inish Pebble Director / Sand Specialist
Venue:  Inish Pebble Company, Newtown, Kilmore Quay, Co. Wexford Y35XF58
Duration: 2 Days Start Time: 9.30am End Time: 4.00-4:30pm
Date: March dates – exact days to be confirmed
Course Programme
Day 1:
9:30 am Health and Safety – storage of material, safety in use
10:00am Quicklime – the binder historically and availability in Ireland
10:30am The difference between 'Hot Mixed' and 'Cold Mixed' binders
11:00am Tea Break
11:30am Sands, aggregates, pozzolans and other additives.
12:00am Visual assessment and identification of historic 'Hot Mixed' bedding mortars and plasters.  How to determine Quicklime ratio and aggregate size for repair work.
13:00pm Lunch
14:00pm How to determine the need for a Pozzolan additive (Hybrid/Gauged Mortar) and where and when they should be applied if needed.
14:30pm Why 'hot-mixed' mortars?  Insight into performance, workability and challenges through mixing
15:30pm Preparation of built fabric to accommodate traditional mixes
16:00pm Application of 'Hot Mixed', and 'Cold Mixed Mortars
16:30pm END
 Day 2:
9:30am Assessment of Day 1 traditional 'Hot Mixes' and 'Cold Mixes'
10:30am How to prepare and tools required for your application area
11:30am Tea Break
12:00pm Application of bedding / pointing mortars and plasters / renders in action
13:00pm Lunch
14:00pm Assess applications, develop new mixes and apply
15:30pm After Care of applications
16:00pm Questions and Answers
Example:
What are the perceived barriers to specifying and using 'Hot Mixed' Mortars and Plasters?
How to develop a specification – what factors to consider – ratio's
16:30pm END