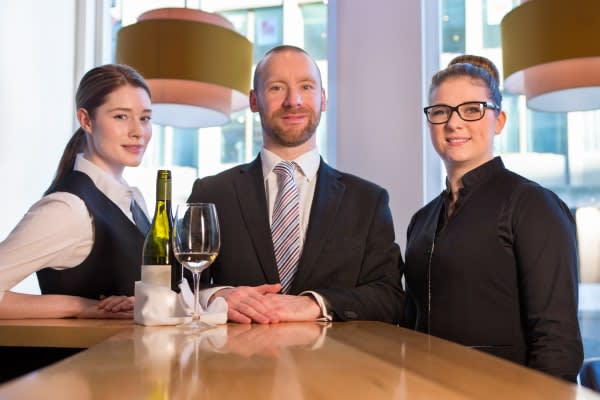 Download Full Brochure Here – Hospitality-Management-TU153_154_150_2022
Course Objective:
This is a two year day release course in Hospitality Management Studies which provides opportunities for individuals who wish to pursue a career in management in the hospitality industry.  It is aimed at complementing the practical experience gained by individuals working in the industry, with an academic focus in college.
The course leads to a TU Dublin Level 6 Higher certificate award. Graduates receive one-year complimentary membership of the Irish Hospitality Institute. Membership includes:
Professional Recognition
Eligible to use post-nominals after your name MIHI
Monthly IHI HNN E-Zine
Mentoring
Opportunity to attend the following: IHI Webinars & Seminars, CPD Training. Monthly Social & Networking Events, The IHI Hospitality Management Awards, Members rate of the National Hospitality Management Conference
 Programme Schedule: 
Year of Programme
Semester 1 

Sept – Dec

Semester 2

Jan – May

Year 1
Faculty 15 weeks
Faculty 15 Weeks
Year 2
Faculty 15 Weeks
Faculty 15 Weeks
Each semester is broken into 12 lecture weeks, 1 reading week (usually mid-term) and 2 weeks for exams.
There are 2 semesters in each year and each semester will deliver 4, five credit modules. Over the year, students must pass these 8 modules along with the one 20 credit year-long module.                               
Programme Delivery:
The part time programme will involve 12 weekly lectures delivered on Tuesday and Thursday evenings (18.00Hrs to 21.00 hrs). The programme will be delivered in a blended format with lectures delivered online for 3 weeks and face-2-face every 4th week.
Face-2-Face Lectures: These will take place in the Central Quad, Grangegorman City Campus Dublin 7 on Tuesdays and Thursdays in the first week of each term and every 4th week.
On-line lectures: These lectures will take place every Tuesday and Thursday from 6pm to 9pm except for the dates designated for face-2-face delivery.  There will be three one-hour modules delivered on the Tuesday evening and 2 one-hour modules on the Thursday evening.
Lecturers utilise a virtual learning environment called Brightspace to make class notes, presentations and assignments available to students. Within Brightspace students can access on-line lectures through our virtual learning system called Bongo. Part of induction (see below) will be geared towards introducing you to these user- friendly systems.
Programme Structure:
                                               Year 1                                                                                         Year 2
Semester 1
Semester 2
Semester 3
Semester 4
Management 1 for Hospitality

HOSP1001

(5 Credits)

Communications and Customer Service Management TFCM1004

(5 credits)

Cost Accounting and Decision- Making

ACCT2422

(5 credits)

Applied Business Planning for Hospitality TFHM1005

(5 credits)

Business Communications for Hospitality

HOSP1002

(5 Credits)

Financial Accounting

ACCT1022

(5 credits)

Human Resource Management

HRMS2001

(5 credits)

Economics for Hospitality

ECON2422

(5 credits)

Digital Fundamentals TFIT1002

(5 credits)

Marketing for Hospitality and Tourism

MRKT1424

(5 credits)

Hospitality Business Systems and Tools

HOSP2001

(5 credits)

(5 credits)

Management 2

HOSP2000

(5 credits)

Hospitality in the Business Environment

HOSP1003

(5 credits)

Front Office / Rooms Division Management

HOSP1004

(5 credits)

Food and Beverage Management TFFB1005

(5 credits)

The Management of Food Safety for the Hospitality Sector TFFB1003

(5 credits)

4 Modules
4 Modules
4 Modules
4 Modules
20 ECTs
20 ECTs
20 ECTs
20 ECTs
Industry Operations – Professional Development PDEP1810

20 credits

Industry Operations – Business Analysis

       PDEP2803

20 credits

                        Total 60 ECTs
                                Total 60 ECTs
Programme Start Date: September 2023
Programme Induction:
Induction will take place for each year in the 3rd week of September on campus.  Induction involves a short tour of the campus followed by an introduction to academia and then an induction to IT which introduces students to the virtual learning environment as mentioned above.
Module Assessment:
Individual lecturers will inform you of the assessment that pertain to each module. However, in general most modules will require you to present an interim assessment and a final assessment. The weightings/value of each assessment can differ depending on the module but the total of all assessment per module will amount to 100%. For example, the weighting for the financial accounting module you will be taking in first year is as follows:
Interim assessment 30%
Final Assessment 70%
Progression on graduation:
All students must successfully complete the 60 credits in year 1 to progress to year 2. Graduates of the programme may progress to the final year of the BA (ordinary) Hospitality Management Studies and to other further training and education awards at level 7 of the NFQ.