Our mission is to focus on the necessary talent required to improve the business performance of our member companies
All our training programmes are supported by member companies and funded through the National Training Fund and Skillnet Ireland.
County Wexford Chamber Skillnet is a 300+ member company network focused on employee development and business competitiveness.
County Wexford Chamber Skillnet is open to any private or semi-state business in County Wexford that has an interest in upskilling their employees and benefiting from networking with other companies in the region.  For training options in the public service please see Our Public Service and for charities please see TheWheel.ie.
There are many benefits to working with County Wexford Chamber Skillnet such as:
 All of our courses are subsidised by Skillnet Ireland through the Department of Education & Skills, ensuring that you can maximise the value of your training budget.  We can offer from 25% to 40% funding on training programmes.
 At County Wexford Chamber Skillnet the customer comes first. We work closely with our members to deliver programmes that meet industry needs, innovation and current organisation/industry gaps.
All our training courses can be booked via our website.
We can also work directly with organisations to develop in-company programmes tailored to the needs of your company.
We have access to a large pool of high-quality experienced trainers and we are constantly evaluating our training providers and programmes to ensure our customers skills gap needs are addressed and met.
Training is delivered at a time and a location that suits members.
Saving of time and resources – we organise quality training courses on behalf of your businesses.
The County Wexford Chamber Skillnet Team has extensive experience in business and training management and is advised by a Steering Group which is made up of Industry leaders in County Wexford.
'County Wexford Chamber Skillnet is focused on supporting local enterprises to maximise their talent in order to meet their business goals; by providing subsidised, quality driven programmes delivered by experts in their field. We also ensure that our training is; up to date, shows an understanding of Wexford businesses and international trends and has the flexibility to be tailored for a specific company's needs'.  Therese O Connor, Network Manager

Are you a member of County Wexford Chamber?
All members of County Wexford Chamber are automatically members of County Wexford Chamber Skillnet.
County Wexford Chamber Members can avail of both open and in-house courses at discounts from 30%+
(Non-members 25% – 30%)
To find out more about joining County Wexford Chamber CLICK HERE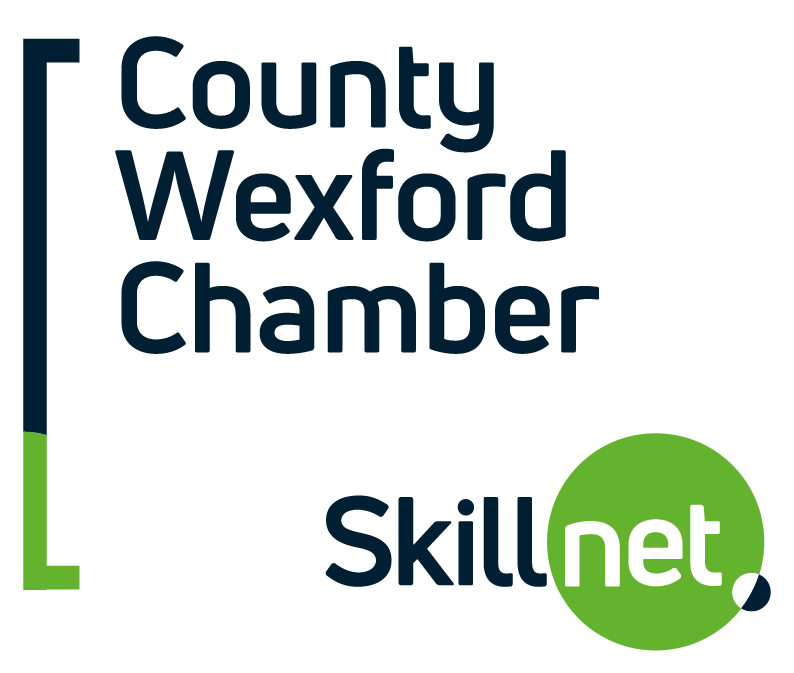 Sign up below to stay up to date about our latest courses and events.
What County Wexford Chamber Skillnet Can Do For You
About County Wexford Chamber
County Wexford Chamber became a member of the Skillnet Ireland Network in September 2015.  Since then it has built an extensive footprint in the region and has established itself, as a leading training organisation throughout County Wexford and beyond.

About Skillnet Ireland
Skillnet Ireland is a business support agency of the Government of Ireland, responsible for advancing the competitiveness, productivity and innovation of Irish businesses through enterprise-led talent development. Skillnet Ireland currently supports over 21,000 businesses nationwide and provide a wide range of valuable learning experiences to over 81,000 trainees.
County Wexford Chamber Skillnet is co-funded by Skillnet Ireland and network companies. Skillnet Ireland is funded from the National Training Fund through the Department of Further and Higher Education, Research, Innovation and Science.