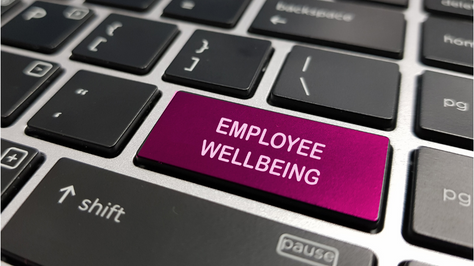 By Calodagh McCumiskey, Spiritual Earth
The importance of Wellbeing:
Wellbeing at Work has been a consistent top trend for Human Resource Leaders and organisations in recent years.  Change, uncertainty, staff retention, stress and changing employee expectations have all played their part in putting the spotlight on workplace wellbeing.  Mental health issues continued to intensify this year with sixty percent of the global workforce reporting at least one mental health challenge, including symptoms of anxiety, depression, distress or burnout.  (McKinsey, 2022).  As a nation, we are exercising less and our weight is increasing.  Many are spending up to one third of their waking lives on the phone. Stress and lifestyle disease have been called the 'epidemics of our time' by the World Health Organisation.  There is a clear need for 'wellbeing'.
Why invest?
There are many reasons to invest in Workplace wellbeing.  People who thrive in life are ready to thrive at work.  Research shows that when organisations support the well-being of their staff, they can experience lower turnover and burnout, as well as greater productivity and engagement (Deloitte).  Studies also show that organisations with a wellbeing policy are more successful and outperform those that don't have one in significant ways.  Investing in wellbeing enables organisations to look after their most important asset, their people which in turn boosts sales and your bottom line.
The top Wellbeing at work trends for 2023 are:
Prioritising and supporting the mental and emotional health of staff to prevent mental health challenges from escalating and support staff to reduce and effectively manage stress.
Financial wellbeing: this can include supporting staff to better manage cost of living concerns and educating them on how to better manage their finances.
Work life balance, was the top consideration for employees in Ireland earlier this year.  Providing support, tools and inspiration to help staff enjoy a better balance in their lives is another top trend.
Wellbeing Culture: "Culture eats strategy for breakfast" is a quote from the famous management consultant and writer Peter Drucker.  A culture that empowers staff and promotes wellbeing and engagement offers a surer route to success.
Flexible Working: COVID, hybrid working and changing lifestyles, trends in employment and expectations of staff are all putting flexible working high on the agenda for companies and employees.
Digital Wellbeing: Digital resources can be used to support wellbeing and connection within and across teams.  The right to disconnect and the need to take breaks from work and technology to meaningfully recharge is also key.
Environment, Social, and Governance (ESG) Sustainability is high on the agenda and is increasingly important for staff and organisations for many reasons.   Investing in wellbeing is a sustainability plan for your people.    An organisation's approach to diversity, equity, and inclusion – integral to individual and team wellbeing is part of both the social and governance pillars of ESG.  Corporate social responsibility (CSR), also part of ESG offers a great opportunity to strengthen employee engagement.  It is all connected.  There is also growing evidence that an organisation's ESG pillars directly impacts employee well-being (Deloitte)
To prepare organisations to be equipped to support employee wellbeing in 2023 and beyond, we are offering a 6 module programme; 'Create a Wellbeing Policy and Strategy for your Organisation' starting on January 31st, 2022. 
This is a 6-module programme for HR Managers / Senior Leaders has 4 group sessions online and 2 in person sessions with Calodagh McCumiskey, an accredited wellbeing expert and each participating organisation to help each organisation create / strengthen their organisational wellbeing policy and strategy.
You can learn more about and book the programme here: https://skillnet.countywexfordchamber.ie/courses/create-a-wellbeing-strategy-for-your-organisation/