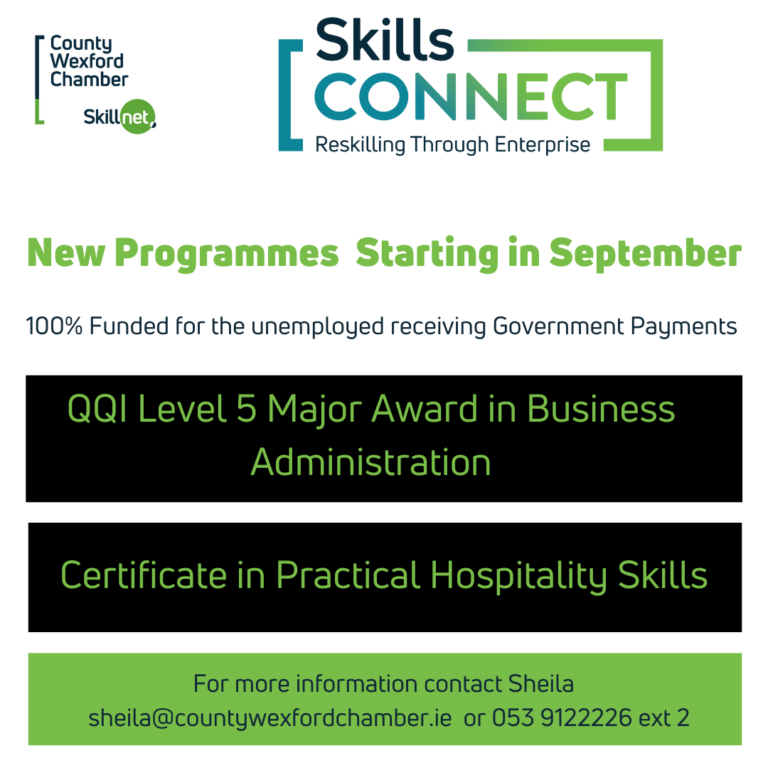 Have you found yourself out of work and need to develop your skills?
Skills Connect offers training programmes and enterprise-led job placements to jobseekers looking for new jobs and careers. This valuable initiative offers individuals the opportunity to develop new skills or reskill, build confidence and access practical on-the-job training.
Skills Connect is focused on helping address current challenges facing enterprise. The Network received funding under Skills Connect in 2021 and again in early 2022 and out of this funding 16 individuals completed the QQI Level 5 in Frontline Office and Reception Skills and 17 completed the QQI level 5 in Healthcare Assistant Skills. 5 of the learners from the reception course secured employment in reception and reservation roles immediately following completion of the course and 10 learners from the Healthcare course and in employment in local nursing homes and with homecare providers based in Wexford.
County Wexford Chamber Skillnet has recently received more funding under Skills Connect 2022. Over the last few months, County Wexford Chamber Skillnet Network Manager, Therese O'Connor has been out meeting with business leaders in a variety of sectors to determine the priority areas for skills training. From this research, it was found that hospitality, administration and finance skills are skills in immediate demand to meet current job vacancies.
Starting in September, County Wexford Chamber Skillnet will be delivering two 100% funded programmes.
QQI Level 5 Major Award in Business Administration
Certificate in practical Hospitality Skills
The Business Administration course will be run over 8 months and is designed to upskill learners in the area of IT, Customer Service, Payroll, Bookkeeping and Computerised Accounts. This course provides learners with a recognised QQI qualification at level 5 on the National Framework of Qualifications as well as a level 6 Component award in Computerised accounts.  It is the ideal qualification for those wishing to work in an office environment in business administration or in an accounts or finance department. Learners wishing to progress further can undertake additional QQI qualifications at levels 5 or 6 in the business field and even progress to degree programmes in business at level 7. For those interested in following a career in accounts, progression routes include the Accounting Technicians Ireland certificate and diploma courses which have excellent progress routes to accountancy degrees and/or professional qualifications in accountancy (part funded by County Wexford Chamber Skillnet). All learners will be required to complete a 2 week work experience placement with a host business organisation. This will allow learners to put their new knowledge into practice and gain practical experience in a business environment.
The certificate in practical hospitality skills course is a 10-day programme designed to help train individuals with the basic skills needed to work within the Hospitality Industry especially in relation to food service roles. This course will enable individuals to become more competent in customer service, teamwork, food and beverage skills.  On completion, leaners will receive certificates in the following:
1. Manual Handling
2. Food Hygiene level 1
3. Hospitality Skills course accredited by CPD on behalf of Hospitality Skills Ireland
To find out more about the upcoming programmes and eligibility requirements, click here.
The Skillnet team with the support from the Steering Group are currently in the planning stages for the development of an entry level Production Operative programme to support employment in the manufacturing sector. It is hoped that this programme will be ready to deliver under Skills Connect in early 2023.