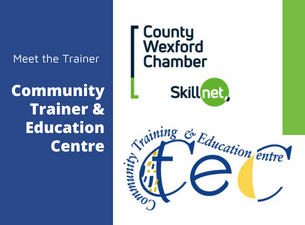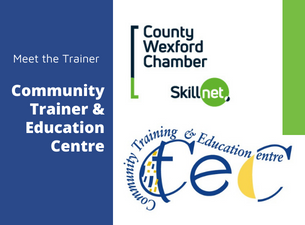 MEET THE TRAINER
CTEC – Community Trainer & Education Centre
Interview with CTEC – Community Trainer & Education Centre
What's the name of your business?
CTEC – Community Training & Education Centre.
How long have you been in operation?
CTEC was established in January 2003.  We are a not-for-profit community organisation with charitable status and a voluntary Board of Management.CTEC provides training for all sectors of society – organisations, individuals whether employed or unemployed and we also provide training for local businesses.  CTEC is located in Norse Gate House in St Peter's Square in Wexford town.
What do you specialise in?
CTEC is an authorised training centre with QQI and we provide business. childcare and healthcare certified training courses for those wishing to
work in these sectors.  We are also an authorised training centre for ATI (Accounting Technicians Ireland) – great courses for those working in the business finance sector.
What successes have you had in your business to-date?
CTEC was delighted to be selected as Training Provider of the Year twice at the Wexford Chamber Business Awards.  We have been fortunate to have delivered numerous programmes funded by the Irish Government and ESF in our specialist areas of childcare and healthcare and following our recent Enterprise Programme were delighted to support multiple women successfully start us their own businesses in Wexford.  What really makes us feel successful is seeing our learners gain their qualifications and find the jobs they have been aiming for!
Can you tell us more about what courses you have coming up?
In September CTEC will have part-time QQI healthcare courses starting ideal for those wishing to work as care assistants.  We will be delivering business training courses as well as QQI childcare and SNA programmes.  Learners who complete a QQI 6 major award in childcare at CTEC have the opportunity to fast track their way to a degree course with SETU (South East Technological University) gaining entry to year 2 of their degree course in childcare at the Wexford Campus.  Our ATI evening courses will start up in September and there are great progression routes to accountancy degree programmes and professional accountancy qualifications from this course.
How long have you been working with the Wexford Chamber Skillnet and how have you found it?We have a great working relationship with Wexford Chamber Skillnet and over the last eight years have delivered a number of QQI courses in healthcare funded by the Wexford Chamber Skillnet as well as IT training for local businesses.  From September we are delivering the ATI training
courses and those in employment are eligible for subsided training through Wexford Chamber Skillnet.  It's great to see funding for training aimed at the local business community being made available in Wexford.
What advice would you give to someone attending your course or starting in your industry?
Training at CTEC is delivered from an adult education philosophy – programmes are learner centred and we hope our learners will not only
gain a great qualification but also really enjoy their experience at CTEC.  There is also lots of support provided – our tutors are always willing to chat and offer assistance.  This is really helpful for those returning to education after a long time.  And if anyone is interested in becoming a trainer in adult education – check out our QQI 6 Special Purpose Award in Training & Development course.  Some of our existing trainers actually started as learners at CTEC and are now employer training part-time at the centre!
How can someone learn more about your business and contact you?
CTEC has a website with details of all our courses www.ctecwexford.ie People can follow CTEC on Facebook – www.facebook.com/ctecwexford where they will find details of our courses and funded programmes and information on local events and job opportunities.  We welcome phone and email enquiries 053-9121036 or info@ctecwexford.ie  and are always happy to see people drop into the centre with an enquiry.