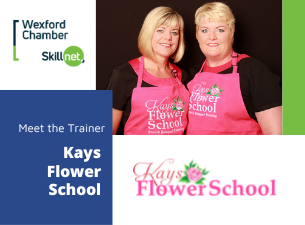 MEET THE TRAINER
Kays Flower School
Interview with Deirdre & Janette O'Rourke of Kays Flower School, one of Wexford Skillnet Trainers.
What's the name of your business?
Kay's Flower School formerly Kays School of Floristry
How did you come up with the name of your company?
 Our Mum is Kay and she started the school in 1987.
How long have you been in operation?
We celebrated 35 years in business this year with a huge scholarship give away worth nearly €4000
What do you specialise in?
We professionally and commercially train florists to work in all aspects of the flower industry.
What successes have you had in your business to-date?
We have many awards over the years, Women in Business, International Floral Educator of the year, Women Inspire Network excellence award.  But for us the biggest success was to be able to continue of business in May 2020 when we pivoted and relaunched our Floristry School Online.  This was a massive decision and a huge amount of work and strain under the circumstances .
Can you tell us more about what courses you have coming up?
 Our Professional Programs are ongoing all through the year and as we come to the end of our term now in July we prepare for our new September Term.  We will deliver Modules 1-4 in September to November and in November we start our Renowned Christmas Floral Design Course with is both suitable for the complete beginner but also  designed for our past students who may already be running business, where thy will learn how to create market and sell Christmas designs on a commercial basis.
How long have you been working with the Wexford Chamber Skillnet and how have you found it?
We have only recently started working with the Wexford Chamber Skillnet and have been highly impressed with the courses they have to offer, and their understanding of the skills required in the flower industry to work commercially.
What advice would you give to someone attending your course or starting in your industry?
Learn Commercially & Professionally  if you want to work in the flower industry, knowing how to sell and arrange flowers does not make you a florist, there is so much more that you need to know to work and make money from flowers.  Do your research and check out the syllabus of training courses.  If you are thinking of enrolling on our program, you are joining an alumni of exceptionally trained florists and you will be supported every step of your journey by Kays Flower School
How can someone learn more about your business and contact you?
www.flowerschoolireland.com – What's App 0872507615 – info@flowerschoolireland.com – 014538649