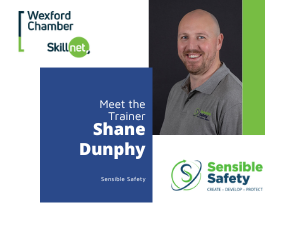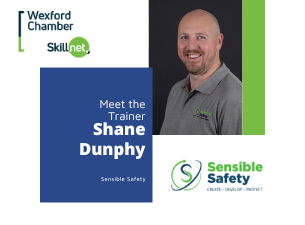 MEET THE TRAINER
SHANE DUNPHY
Interview with Shane Dunphy of Sensible Safety Ltd, one of Wexford Skillnet Trainers.
What's the name of your business?
Sensible Safety Ltd
How long have you been in operation?
16 months
What do you specialise in?
Behavioural Based Safety Training
Health and Safety Training & Consultancy
What successes have you had in your business to-date?
Wexford Chamber Training Provider of Year 2022
Appointed as PSCS/PSDP for Monk Street Roof Project & Crest Pavilion
Can you tell us more about what courses you have coming up?
We have PHECC First Aid Responder and Safety Management training coming up with Wexford Chamber Skillnet
How long have you been working with the Wexford Chamber Skillnet and how have you found it?
We have been working with Skillnet for many years!
What advice would you give to someone attending your course or starting in that industry?
Safety training is ultimately about ensuring you and your fellow work colleagues get home to their loved ones every night.
So, if your starting in the industry as a Health and Safety Consultant/Trainer remember safety is about effecting human behaviour.
With that in mid set yourself the target to be Cultural Architect and make sure that safety isn't just about compliance.
How can someone learn more about your business and contact you?
Have a look at our website www.sensiblesafety.ie or contact me by email on shane@sensiblesafety.ie