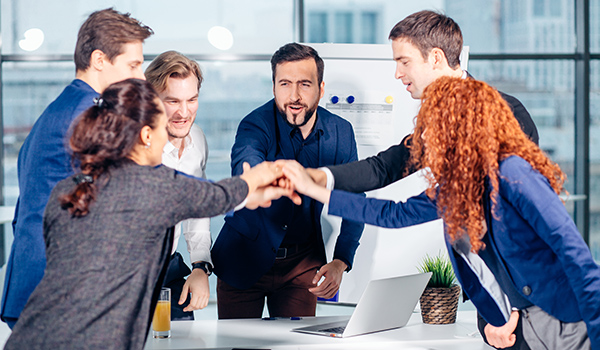 This is a 6-module programme for HR Managers / Senior Leaders with 4 group sessions (including 2 group sessions online and 2 in-person).  Additionally there will be 2 further sessions between each participating organisation and the trainer, an accredited wellbeing expert to help the participant and  their organisation create / strengthen their organisational wellbeing policy, strategy and programme.  
The programme will give you a comprehensive understanding of what wellbeing and wellbeing at work entails; a policy and strategy template and support you to develop your organisation's wellbeing policy and strategy; a tool kit with many free wellbeing resources and an understanding of wellbeing trends and best practice.   It will also give a comprehensive menu of different wellbeing programme options based on the different pillars of wellbeing that could be done in your business based on your unique needs and goals in terms of wellbeing.
Key Dates:
Programme Launch: Wednesday, February 7th, 2024, from 10:00 am to 12:30 pm at the County Wexford Chamber Office.
Online Group Sessions: Wednesday, March 6th and 27th, via Zoom 10:30 to 12:30
Final Group Session, Wednesday May 22nd, 9:30 am to 1:00 pm at the County Wexford Chamber Office.
Bespoke On-Site Sessions: Available from April 2nd to May 31st, to be scheduled directly between your organization and the Trainer. These two x two hour sessions can focus on finalising your wellbeing strategy / plan or be used to deliver group workshops on different wellbeing themes for staff members from your organization.
2 x One to One Sessions (with the trainer and each organisation) –  These sessions will be scheduled directly between the organisation and the trainer at times that suit the organisation.  These sessions can be done as one to one sessions between the programme participant and the trainer or they can be done as group sessions with the trainer and a group from each participating organisation. They can be done on zoom or on site in your office.
The first and last group session will be in person.  Two x 2 hour group sessions will be online. The 2 x 2 hour Strategy Sessions can be in person or on line – based on the preference of participants. They can be done as a 1:1s (with the trainer and the programme participant) or they can be done as group sessions with a team from your company.
Pricing:
€650  and €600 for Chamber Members – The Standard Rate is €1,000 per participating individual/organization :
Additional Participant Fee: €150 for a second participant from the same organization.
Topics covered include:
Wellbeing at Work and the 12 pillars of Wellbeing
The current challenges to Wellbeing in our world and solutions
Current Wellbeing at work trends and best practice
Wellbeing and Mental and Emotional Health
Workplace Communications and Wellbeing
What employers must do, what is 'good' to do and what works in terms of wellbeing programmes
Wellbeing in times of Change and Uncertainty.
Building Resilience and effective stress management
Wellbeing and remote, hybrid and flexible working – best practice
A comprehensive menu of different wellbeing programme options that you can do in your company (based on the 12 pillars of wellbeing and other factors eg digital wellbeing, flexible working, work life balance, financial wellbeing and mental and physical wellbeing etc)
Environment, Social and Governance (ESG) and wellbeing
ESG and Corporate Social Responsibility
Understanding of the different workplace wellbeing accreditations
Team Wellbeing and Wellbeing Culture
Wellbeing Champions and how to boost engagement in your wellbeing programme
The Wellbeing Toolkit includes: Wellbeing Policy Template and Strategy Template,  Menu of Wellbeing Initiatives and Activities, Wellbeing Survey Templates, Power Points and guidance for leading introductory wellbeing sessions on key topics, and recordings of short relaxation and meditation practices.
By the end of the programme you will have:
A wellbeing policy for your organisation
A wellbeing strategy for your organisation
An understanding of wellbeing, wellbeing at work and related issues
An understanding of current trends in wellbeing programmes and what works
A wellbeing tool kit – including details of the 12 pillars of wellbeing, powerpoint presentation on different wellbeing themes based on latest trends and best practice, a menu of different potential well being related initiatives to support different pillars, challenges and opportunities – and survey templates,
A menu of wellbeing programme options including a list of low cost and no cost wellbeing solutions available and a tool box of FREE resources available
A wellbeing plan for the year ahead.
Learned what other companies are doing in terms of wellbeing and benefit from their lessons learned
The programme will also give participating organisations the chance to discuss and get ideas and solutions for any wellbeing related challenges they are having.
Don't miss this opportunity to advance your organization's wellbeing strategy and contribute to a healthier, more productive work environment. Join us on February 7th, 2024, to embark on this transformative journey.
'I would highly recommend this programme for any organisation building a high performance team. We completed the last programme and have seen immeasurable benefits'.  Damien Donlon CEO, dulann
'Great course. Very helpful in progressing us further with our ongoing strategic plan for wellbeing' Mairead Murphy, HR Manager, Celtic Linen