Our Courses
Investors in Diversity Bronze Award – In-company Programme

View Course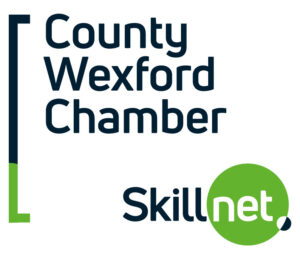 County Wexford Chamber Skillnet continues to evolve our online training offerings and our funded training supports to companies within the Wexford Region via funding from Skillnet Ireland.
We specialise in facilitating training in the areas of Management Development, Leadership, Professional Skills, Healthcare amongst other courses. We provide a wide range of discounted QQI accredited training courses, personal and professional development programmes, seminars and workshops.
Our funded training supports include:
In-company training – County Wexford Chamber Skillnet can allocate funding to companies throughout County Wexford to support their online training & development needs in order to sustain their competitiveness, sustainability and growth. Thankfully, the increased levels of funding available from Skillnet Ireland to industries represents a great opportunity to reduce your training costs. It is the intention of County Wexford Chamber Skillnet to continue to support Wexford companies into 2022 and beyond with funding from Skillnet Ireland.
Public training – Our wide-ranging online public training courses are available to your team members and are also subsidised with funding from Skillnet Ireland. All our public training courses are open to all sectors, are updated on a regular basis and can be booked online.
If you have a particular training requirement or would like to discuss availing of our funding supports, please contact The Network Manager, Therese O Connor; therese@countywexfordchamber.ie  or 087 3489618