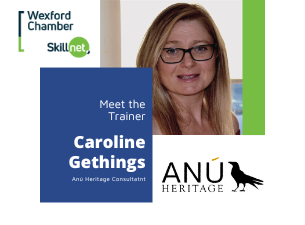 MEET THE TRAINER
CAROLINE GETHINGS
Interview with Caroline Gethings of Anú Heritage, one of Wexford Skillnet Trainers.
What's the name of your business?
Anú Heritage
How did you come up with the name of your company?
Branding design by Design Bytes located in the Enniscorthy Enterprise Centre.
Anú in Irish Legend is the Irish Earth Goddess from whom all life emerged. Anú was seen to embody the earth, rivers, and sea, she offered fertility, abundance, regeneration, and nurturing.  Anú gifted Ireland with swollen rivers, and during the summer months, the flora and fauna would spring. Nature was the bridge between Earth and the Gods. Bees were regarded as messengers of the gods .
Anú was worshipped as the river Liffey was said to 'magically swell' at Anu's command and bring the people of the land food.
Anú was adored, however, her tribe the Túatha Dé Danaan, or better known as the 'fairy-folk' invaded Ireland on the first of May. They battled the Fir Bog (the fourth mythical tribe to settle in Ireland), and eventually won peace but were always on the edge of war. In time, the fairy-folk were banished by mortals and forced to live underground. The fairy houses still stand to this day in Ireland.
Anú was popular throughout Europe, but today there are only a few references to Anú that remain. There is a mountainous region in County Kerry called the "Paps of Anú" which is named after her.
How long have you been in operation? 
Self Employed since 2019
What do you specialise in? 
Built Heritage and Conservation Advisor
What successes have you had in your business to-date?
I have been awarded the lead for many projects that are carried out using traditional building materials – the following is a small sample of projects currently in process and or completed
The Conservation of the East Wing of Johnstown Castle,
Traditional Infrastructural Project with Kildare County Council,
Heritage Council GLAS Projects,
1 of 5 Country Wide Vernacular HSF 2021 Projects (there are many projects)
International Exchange Project with South Korea
Can you tell us more about what courses you have coming up?
All courses are designed for owners, builders and or professionals who are working with traditionally built structures including traditional mortars, renders and plaster
How long have you been working with the Wexford Chamber Skillnet and how have you found it? 
Three months, through the Jobs Fest held on the Wexford Quay Front
What advice would you give to someone attending your course or starting in your industry?
Be patient and practical.
How can someone learn more about your business and contact you?
Anú Heritage – Facebook, Webpage, Instagram, LinkedIn,  email: caroline@anuheritage.ie